ALPHA LM-1S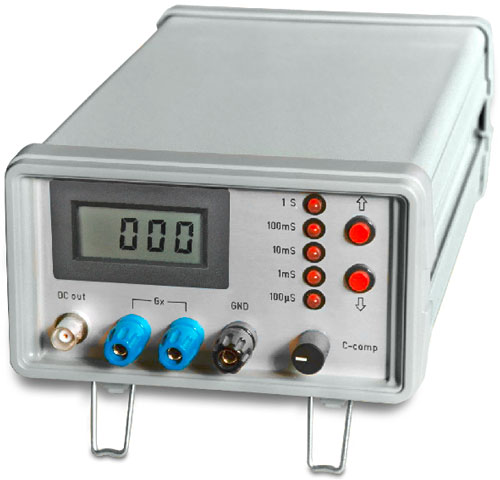 General:
The LM-1S was specially designed for measuring the conductivity of liquids in waste water investigation and other biochemical experiments. It works with alternating current to avoid electrolysis effects. The results are almost free of lag, which makes monitoring and automatic controlling of dynamic processes possible. A 5cm parallel wire probe is used as the reading recorder. Other kinds of sensors are available upon request.
Applications:
Bio-Chemistry
Food Industrie
Schools, Universities
Specifications:
Conductivity Measuring with sine-wave signal at 2 kHz.
Short Response Time of < 10 ms.
Frequency selectiv evaluation for suppression of disturbances.
5 Measuring Ranges: 0 … 100 uS, 0 … 1 mS, 0 … 10 mS, 0 … 100 mS, 0 … 1000 mS to be choosed manually or computer controlled. (Computer overrides manual function)
Measuring results shown on LCD Display.
Measuring results available as DC-Voltage 0 … 10 Volt at BNC-Connector.
Accuracy (referring to probe connecting point): < 2% absolute.
Potentiometer "C comp" for compensation of stray capacity of longer cables.

Case dimensions:

21 x 20 x 12 cm.